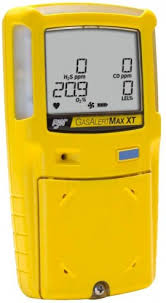 BW MaxXTII
BW MaxXTII with a built in sampling pump and sensors for O2, CO, LEL and H2S
Go the distance, and save
GasAlertMax XT II is the smart, simple, economical way to compliance. Workers feel safe and incidents are minimised so everyone will be able to do more. That means savings realised from business continuity and productivity. With the addition of IntelliFlashTM*, this multi-gas detector offers continuous visual confirmation of detector operation and compliance.
Simple operation, with SmartSample pump.
GasAlertMax XT II reliably monitors up to four hazards and combines straightforward one-button operation with our robust, motorised pump for intelligent, remote sampling, ideal for confined spaces. The GasAlertMax XT II is fully compatible with MicroDock II automated test and calibration system.
Standard features of BW products:
• Continuous LCD shows real-time gas concentrations
• Compact and lightweight design makes it comfortable to wear
• Water-resistant
• Simple automatic calibration procedure; compatible with BW MicroDock II automatic test and calibration station
• Full function self-test of sensor, battery status, circuit integrity and audible/visual alarms on start up
• Bright wide-angled visual alarm bars
• Built-in concussion-proof boot
 Additional GasAlertMax XT II features:
• Integrated sampling pump with reliable diaphragm technology
• Best in class block detection with semi-conductor pressure sensor
• Multi-language support in English, French, German, Spanish and Portuguese
• Conveniently manage your detector with Fleet Manager II
• Equipped with standard data logging and event logging
• Continuous visual compliance with IntelliFlashTM*