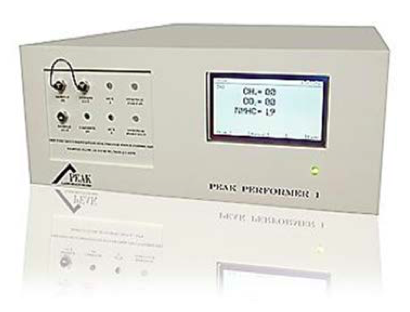 TCD: Thermal Conductivity Detector
For the Detection of Argon, Hydrogen, Oxygen, Nitrogen & Methane
High sensitivity GC measurements & amp detection.
The Peak Performer 1 TCD uses a sensitive single filament Thermal Conductivity Detector (TCD) which has been designed specifically for process gas or laboratory applications.
The TCD is used to measure impurities or mixtures from ppm to percent levels. The PP1 TCD uses Peak Laboratories proven operating platform for simple, accurate measurements. The PP1 technology has proven to offer a more cost-effective and user friendly alternative to other process GC's. In addition, Peak Labs practical experience and ability to customize to suit your applications makes Peak Labs your partner, not just your supplier.
Technical Information
The Peak Performer 1 TCD gas chromatograph (GC) has been optimized for permanent gas applications to simplify the chromatography and consistency of the process application.
Accuracy
+ / - detection limit or 10% of reading, whichever is higher.
Range
Operation
Run time:
300 seconds < (depending on application)
Operating Temperature:
Typical Gas Supply Requirements:
Carrier:
Purified research grade helium
Supply pressure 70 – 110 psig with 5% stability to purifier
Total flow ~ 200 sccm (plus ~ 50 cc per actuation)
Actuator:
N2/Air or inert gas regulated @ 70psig
Data Collection / Communication (Standard)
Backlit 3" x 5.25" touch screen
Visual chromatogram and numerical results
On-board integration with re-run capability
Peak Viewer software: chromatograms collected and archived via standard 9 – pin com-port in .csv format (data is excel compatible)
Dimensions / Electrical
27" L x 17" W x 7" H
25 lbs.
115 VAC, 50 – 60 Hz / 220 VAC, 50-60 Hz
1.5 amp maximum
Accessories and other features
Analog (VDC or mA) trend outputs
Analysis averaging
Auto start/stop capability
4-20 mA Output
On Column Syringe Injector Adapter
Dual Sample Stream