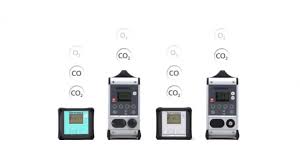 ServoFlex 5000 Series
Servomex ServoFlex Portable Range of Analysers
SERVOFLEX (Portables) MiniMP 5200
The only truly portable battery powered gas analyser with MCERTS certification, the MiniMP is a portable analyser designed to offer single or dual
measurement of O2 and CO2 by using Servomex's advanced paramagnetic and Infrared sensing technologies
Key Features: 
EN15267-3 (MCERTS V3.3, Annex F) makes the MiniMP for source testers that require reference O2 analysis for CEMS verification
Lithium Ion battery system offers unique true portability
Non-depleting sensor design ensures long service with minimal calibration
Click here to view the brochure
SERVOFLEX (Portables) Micro i.s. 5100
Designed for the measurement of toxic and flammable gas samples, the intrinsically safe Micro i.s. is a unique analyser certified to Zone 0 and Zone 1 and suitable for measuring percent levels of O2, CO and CO2. 
Key Features:
Intrinsically safe design to ATEX and IEC standards ensures safety operation in hazardous environments
Ergonomic design ensures easy operation on the move
Available in non-pumped or pumped version with optional sample conditioning kit
Click here to view the brochure
SERVOFLEX (Portables) MiniFoodPack 5200
A small sample volume portable benchtop analyser designed specifically for the checking and quality control of gas mixtures in Modified Atmosphere Packaging (MAP) used in the food and pharmaceutical industries, the Mini Food Pack enables single or dual measurements for percent levels of O2 and CO2.
Key Features:
Range of sampling accessories is available for taking measurement from rigid or flexible pack
Rechargeable battery option enables complete portability for flexible operation
Non-depleting sensor technology maximizes availability and reduces maintenance and operating costs
Click here to view the brochure
SERVOFLEX (Portables) MiniHD 5200
Designed especially for use in field locations or light industrial applications, the SERVOFLEX MiniHD portable gas analyser is a rugged, heavy duty analyser that can accurately measure the levels of O2, CO and CO2 within common gas mixtures. The MiniMD uses Servomex's non-depleting paramagnetic and Infrared sensors to give dependable and accurate results.
Key Features:
Robust IP65 construction meets the demanding needs of field location analysis 
Long life Li-ion rechargeable batteries and range of sampling options ensure ease of use 
ORSAT validated to meet USFDA performance requirements for verifying medical oxygen USP and nitrogen NF
Click here to view the brochure
Associated Products & Parts: