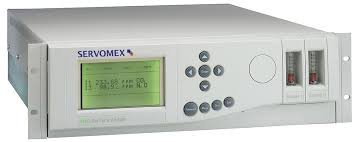 ServoPro 4000 Series
Flexible Multigas Analysers
SERVOPRO (Safe Area) 4100
Offering the capability of measuring CO, CO2, N2O, CH4 and moisture at trace levels and CO, CO2 and CH4 at percent levels - as well as an O2 purity measurement - the flexibility of the SERVOPRO 4100 meets a wide range of process control and product qualification needs.
Key Features:
Simultaneous measurement of up to four gas streams
Independent auto calibration of all measurements with up to 8 isolated analogue outputs and up to 12 relays with follow or freeze option
Alarm, fault and calibration history logs
Click here to view the brochure
SERVOPRO (Safe Area) 4200/4210
The SERVOPRO 4200 multigas analyser is designed to monitor flammable gas samples including H2/CO, 'HYCO' or 'Syngas' mixtures for trace level contaminants and percent level components. The 4200 offers oxygen control using Servomex's unique paramagnetic cell, trace level measurement of CO, CO2, N2O and CH4 using photometric sensor technology, and IR technology for measurement of carbon monoxide, carbon dioxide and methane at percent levels.
Key Features:
Measures up to four gases simultaneously
RS232 / RS485 and Modbus communications
4210 variant includes stainless steel pipework
SERVOPRO (Safe Area) 4900
The SERVOPRO 4900 is specifically designed for the Continuous Emissions Monitoring, where legislation requires the measurement of several gas components in flue gas. The 4900 offers multigas capability for pollutants, greenhouse gases and reference O2, including O2, CO, CO2, NO, SO2, CH4, N2O.
Key Features:
Low maintenance and cost of ownership
Easy integration with other systems
MCERTS / TÜV approved measurements
Click here to view the brochure
Associated Products & Parts: