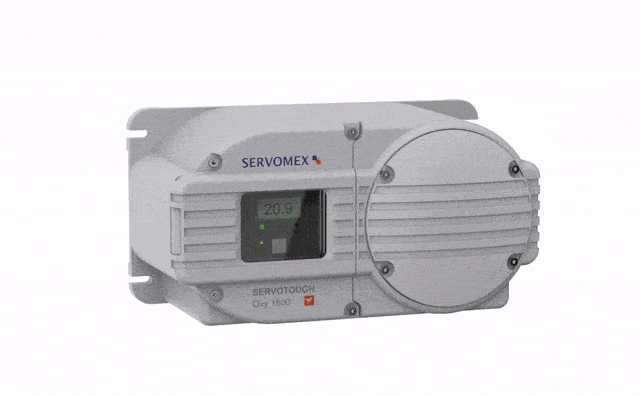 ServoTough Oxy 1800
Accurate, analog and highly specific oxygen analyzer for safe areas and enriched oxygen samples

The SERVOTOUGH 1800 simplifies safe area O2 monitoring by delivering a powerful value-added package of features built around highly accurate and reliable oxygen monitoring capabilities, utilizing the patented Servomex Paramagnetic oxygen transducer. Compared to other technologies, the Paramagnetic transducer is non-depleting and requires minimal calibration - ensuring low cost of ownership.
The enclosure has an ingress protection of IP66/NEMA 4 allowing indoor or outdoor installation of the analyzer.
The analyzer has clear displays, indicators and enclosed controls. The ruggedness and reliability of the analyzer make it suitable for critical applications. Isolated 4-20mA and non-isolated 0-1V dc analog output signals allow the analyzer to be connected to distributed control systems (DCS), recorders and annunciator panels.
The analyzer complies with the latest European and EMC Directives.
Key Features:
Automatic Flow Control Device (AFCD) and back pressure regulator available
Special versions for solvent bearing samples
Designed for safe area, oxygen enriched analysis….0-100% Oxygen
Uses industry leading patented Paramagnetic technology for stable, no-depleting measurement
Key Applications:
Ambient air monitoring
Waste water treatment
Food storage
Marine inerting applications
Clean room/glove boxes
Inert blanketing
Gas cylinder storage
Click here to view the brochure
Associated Products & Parts: